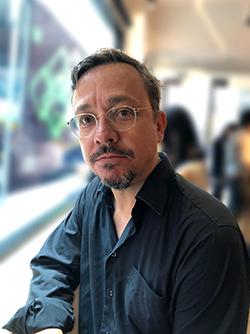 With effect from 1 September 2018, Professor Marcus Specht has been appointed Director at the Leiden-Delft-Erasmus Centre for Education and Learning (CEL) and Professor to the Chair of Digital Education at TU Delft's Faculty of Electrical Engineering, Mathematics and Computer Science (EEMCS).
Professor Specht was head of the Welten Institute's research group on Technology Enhanced Learning. The Welten Institute is the research centre for learning, teaching and technology of the Open University. Professor Specht will continue to work at the Institute as a researcher, thus assuring the exchange of academic knowledge with the Centre for Education and Learning. Professor Specht is also coordinator of the Learning & Education theme of the VSNU programme The Digital Society.
'Marcus is the right man to join the online and innovative teaching knowledge and experience of the Open University to that of Leiden University, TU Delft and Erasmus University Rotterdam,' responded Rob Mudde, Vice Rector Magnificus/Vice President of Education of TU Delft, on behalf of the Leiden-Delft-Erasmus Centre for Education and Learning steering group. 'I think that with his enthusing personality he will make the Centre for Education and Learning an attractive working environment that draws more talented researchers.'

Hester Bijl, Vice Rector Magnificus of Leiden University and member of the CEL steering group, adds: 'We are overjoyed with the coming of Professor Specht. With his background, he will further strengthen research into our education at the Centre for Education and Learning.'
Biography
Since 2008 Marcus Specht (1967) is Professor for Learning Technologies at the Open University of the Netherlands and has been heading the CELSTEC Learning Technology Labs. He is and was involved and leading a variety of national and international research projects on open and competence-based education, learning analytics, intelligent learning support, and mobile and ubiquitous learning.
Marcus received a Diploma in Psychology in 1995 and a Dissertation from the University of Trier in 1998 on adaptive information technology. After a career in industry Marcus was appointed Associated Professor at the Open University in Heerlen in 2005 where he was working on competence-based education, learning content engineering and management, and personalization for learning. Since 2008 Marcus is full Professor for Learning Technologies at the Educational Technology Expertise Centre of the Open University of the Netherlands. From 2014 he was chairing the board of the Welten Institute, Research Centre for Teaching, Learning and Technology.
---
INVITATION ANNUAL MEETING CENTRE FOR EDUCATION AND LEARNING - 19 DECEMBER 2018
The LDE Centre for Education & Learning will organize this year's Annual Meeting on 19 december 2018. Director Marcus Specht will present the Centre's strategic plan 2019-2024.
Please be invited for this Annual Meeting, an afternoon full of inspiring presentations, discussions and interactive meetings. Participate in workshops and get familiar with the Leiden-Delft-Erasmus partners and their innovative work. 
Location: The Centre4Innovation, Leiden University, Schouwburgstraat 2, The Hague.