Dutch universities are set to collaborate as part of the The Digital Society programme. Together with other knowledge organisations, the business community and government, we intend to invest in innovative research in the field of digitisation in line with the National Science Agenda. The aim of The Digital Society research programme is to gain a leading international position for the Netherlands in the field of human-oriented information technology and to identify solutions to worldwide challenges.
The programme focuses on seven themes: Citizenship & Democracy, Responsible Data Science, Health & Well-Being, Learning & Education, Work & Organisations, Digital Cities & Communities and Safety & Security. Prof. Inald Lagendijk is distinguished professor in Computing Based Society at TU Delft and one of the three coordinators of the VSNU (Association of Universities in the Netherlands) programme. We put a series of questions to him.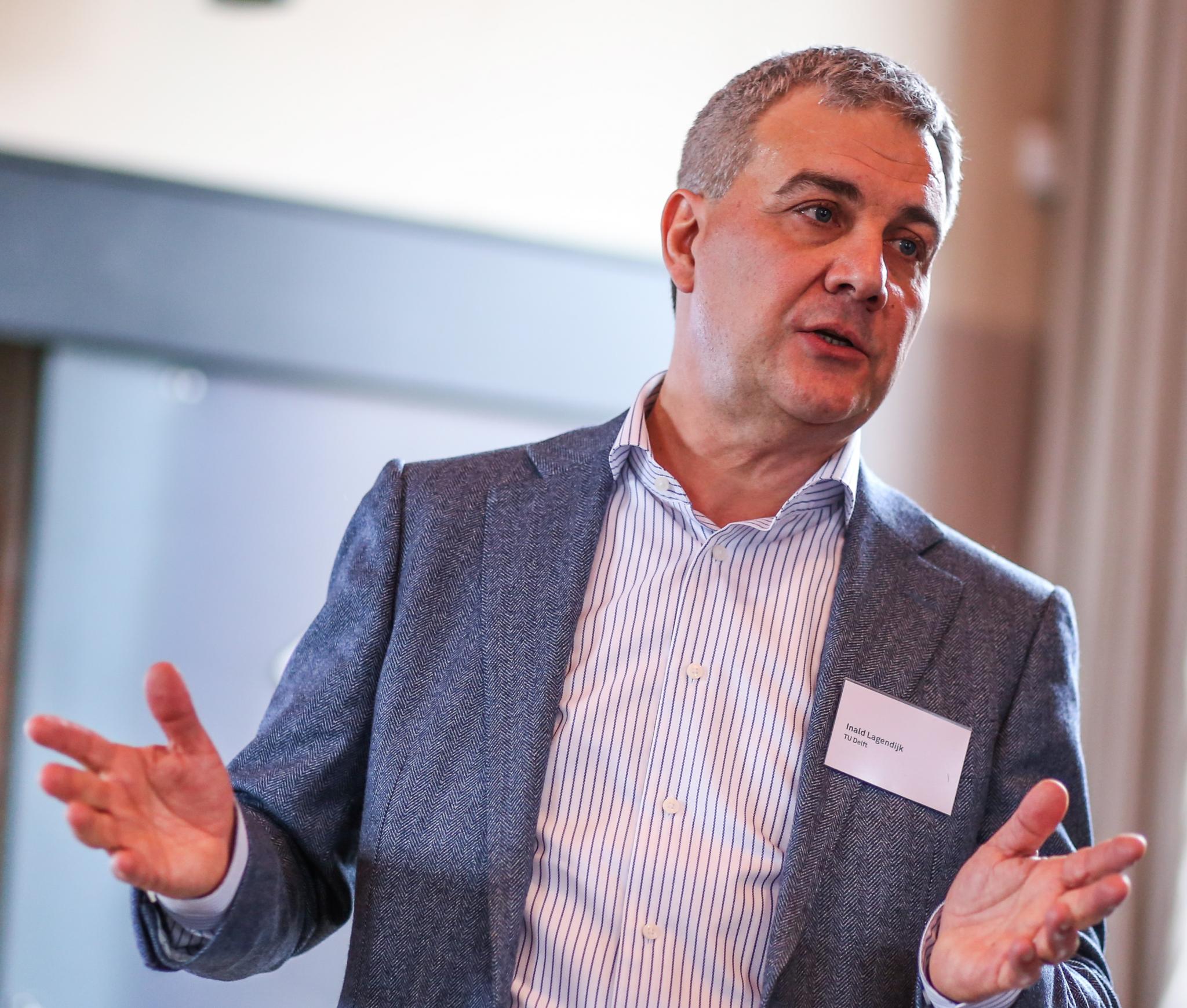 In your view, why does The Digital Society programme matter?
Prof. Lagendijk: "Digitisation is having an ever-increasing effect on numerous aspects of our society. It's not something that just happens to us, it has to be constructed. That's why we need to carefully consider what we want. Think about how we approach issues like security and privacy. Currently, there is a lot of negative news coverage, but digitisation also brings great benefits. So how can we adopt a positive approach to the opportunities and risks of digitisation? As scientists, we can provide direction in answering that question."
"It's great that, as universities, we have taken on the challenge ourselves and that 40 professors are prepared to invest time in this initiative. It takes some courage to become involved, but this multidisciplinary form of collaboration will ultimately prove very fruitful. It enables you to broaden your perspective and explore new areas of science that have huge potential for the future."
What role does Leiden-Delft-Erasmus play in The Digital Society programme?
Prof. Lagendijk: "Leiden University, TU Delft and Erasmus University Rotterdam have jointly played a very active role in the development of The Digital Society programme. We have appointed professors as theme initiators and also asked researchers to work on the programme in the years ahead, all financed by the LDE fund."
"Our Leiden-Delft-Erasmus strategic alliance has already enabled us to practice collaborating with other scientific disciplines and we will be bringing that experience with us. For example, Liesbet van Zoonen, professor at Erasmus University, is the initiator for the Digital Society theme of Digital Cities & Communities and is director of the LDE Centre for BOLD Cities.'
The Leiden-Delft-Erasmus professors in The Digital Society programme:

Prof. Andrea Evers, professor of Health Psychology, Leiden University, is theme initiator for Health and Well-Being > video-interview
Prof. Liesbet van Zoonen, professor of Sociology, Erasmus University Rotterdam, is theme initiator for Digital Cities and Communities > video-interview
Prof. Geert Jan Houben, professor of Web Information Systems, TU Delft, is theme initiator for Responsible Data Science.
Prof. Michel van Eeten, professor of Governance of Cybersecurity, TU Delft, is professor for the theme of Safety and Security.
Prof. Marcus Specht, professor of Digital Education, TU Delft, is initiator (from the Open University) for the theme of Digital Learning & Education. > video-interview 
Prof. Inald Lagendijk, professor of Information and Communication Theory, TU Delft, is programme coordinator for The Digital Society > video-interview 
Prof. Lagendijk: "Every branch of science has its own world view and its own truths. It is good to bring these together and involve each other in them. Take, for example, a theme like 'democracy'. What view does an engineer take of it, how does an economist see it? Or big data – what aspects would a sociologist or lawyer mention in that context? We believe that this cross-fertilisation is interesting and necessary when approaching issues faced by society."
Data principles
In addition to the seven themes, The Digital Society programme also focuses on four data principles: FACT, FAIR, ROBUST and SHARED. These four data principles are essential for understanding the social challenges and the opportunities of digitisation. Scientists, the government, the business community and other partners can apply these in building a better future with data. > Lees meer
How can scientists enthused by what you have to say become involved in this programme?
Prof. Lagendijk: "I happily invite researchers to take part in The Digital Society. I can definitely recommend attending the national conference on 27 November. There are also launch events, including one in Leiden on 7 November on the theme of Health & Well-Being. They will also be very welcome there. Of course, you can also contact a theme initiator initiator and other participating researchers from one of the themes.
Currently, post docs are also being recruited. They will be collecting questions from the government to add to the research agenda. At the moment, the universities themselves are investing in The Digital Society, but ultimately the aim is to attract sufficient external funding to enable the programme to run independently."
WATCH THE VIDEO INTERVIEW WITH INALD LAGENDIJK ABOUT THE DIGITAL SOCIETY
 
---
Invitation first national conference on The Digital Society
Come along on 27 November to the first national conference on The Digital Society in Amersfoort. The theme initiators will introduce themselves in plenary lectures during the event, there will be workshops with participating scientists and a market featuring information stands. For further information and to register click here.