In the quest for highly talented scientists and academics, every university is fishing in the same international pond. This is why Leiden University, Delft University of Technology and Erasmus University Rotterdam, together with Leiden University Medical Center and Erasmus Medical Center, have joined forces in the LEaDing Fellows programme.
This joint post-doctoral programme is partially funded by the EU through the Marie Sklodowska Curie COFUND programme. Spread across three consecutive calls for applications, the LEaDing Fellows programme offers a total of 90 post-doctoral positions, each of them a two-year appointment at one of the LDE institutions or medical centres. The final call for applicants opens on 1 September 2018.
Andrea Gutierrez is just one of the talents selected after the first call for applicants for the LEaDing Fellows programme. Originally from Columbia, the physicist studied and completed her PhD In Canada, conducted research in Switzerland, followed by a post-doctoral position in London, and is now based at the Reactor Institute Delft and the Holland Proton Therapy Centre. We spoke to her at her workplace at TU Delft.  
Andrea, what brought you here and what will you be focusing on as a LEaDing Fellow over the next two years?
'As a student in Vancouver, I became increasingly interested in particle physics and later, at CERN in Switzerland, I found out what great fun it is building a new detector with a group of people. In the lead-up to my PhD conferral ceremony, I also spent some time writing algorithms for the supermarket group Tesco. But my ultimate aim was to focus on research in an area that has potential to bring great improvements for people.
That's why I applied for the LEaDing Fellows programme. I'm now conducting research into the effects of proton therapy (a new cancer treatment method) by detecting the particles that are released during irradiation. We are building and testing this detector, as you can see on this photograph.'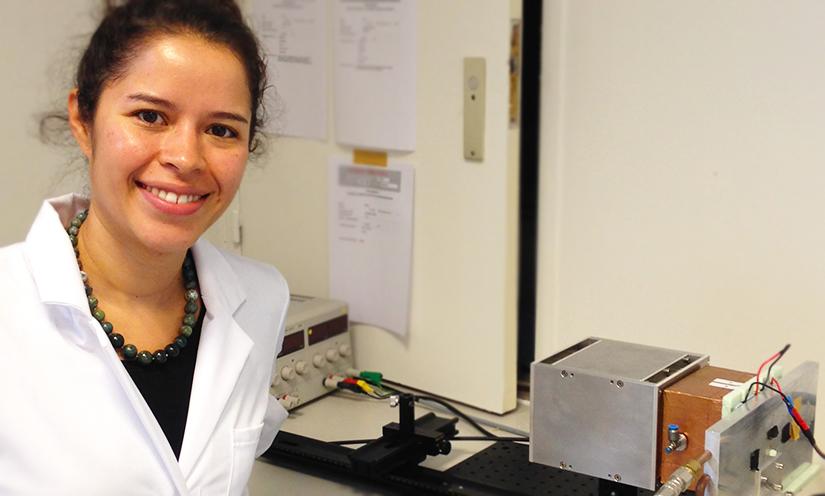 Do you enjoy being a LEaDing Fellow and what does TU Delft have to offer you as a scientist?
'There are still only around 50 proton clinics worldwide, and the fact that so much research is conducted in Delft's Holland Proton Therapy Centre it also unique. That is particularly interesting for me as a scientist. It enables me to experience at close hand work in the clinic and the day-to-day practice with patients and those treating them.
I was also able to experience that practice by spending several weeks on an internship in the radiotherapy department at Erasmus MC. The working conditions here are excellent. For example, I received a lot of support in building the detector from the TU Delft technical team. I've also been lucky with my mentor, TU Delft's Dr Dennis Schaart, a radiation expert.'
As a LEaDing Fellow, you also become a Marie Curie alumnus, which gives you a valuable international network for the rest of your life.'
'The LEaDing Fellows programme offers great opportunities for personal development. You can attend conferences in your own specialist field and also take a range of courses in more general skills. As a LEaDing Fellow, you also become a Marie Curie alumnus, which gives you a valuable international network for the rest of your life. Another important bonus: you can cycle to work here! That really is a luxury when you're used to the traffic in London.'
Information and contact about the third call from 1 september - 31 October 2018

The last call for applicants for the LEaDing Fellows programme starts at 1 september 2018 and ends 31 October. Read all about it at http://leadingfellows.eu or contact Caroline Kohlmann-Van Noord or Veronique van der Varst: leadingfellows@tudelft.nl
---
The LEaDing Fellows programme aims to help boost the career development of those who have just completed their PhDs by offering opportunities for international, cross-sector and interdisciplinary research. Applicants put forward their own research proposals and coordinate this with the intended faculty or department, which then commits to it. The fellows also complete an internship at another LDE institution and take training courses in professional and personal development.
Midway through the programme, what do people think of it so far? Caroline Kohlmann-Van Noord, the programme coordinator at TU Delft, explains: 'The LEaDing Fellows programme is proving to be attractive for international talent and a success for the Leiden-Delft-Erasmus alliance. This is demonstrated by the number of applications, the high calibre of the applicants and the fact that we have already been able to successfully appoint 60 post-doctoral researchers.'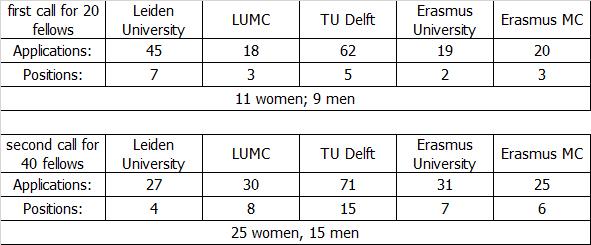 Who is participating in the LEaDing Fellows programme and in which research areas are they active?
Caroline: 'In principle, all of the Leiden-Delft-Erasmus research groups are participating. The fellows selected so far mainly work in the fields of life sciences & health and physical science & engineering, with a small group in the field of humanities & social sciences. If we also include the medical centres, there has been a fairly equal spread across the three cities of Delft, Rotterdam and Leiden.' 
Her colleague Veronique van der Varst adds: 'The high calibre of candidates is thanks to the selection procedure, which includes an assessment of the applicants' research proposals by external peer reviewers. Another key aspect we consider important is for applicants to make use of the wide range of disciplines offered by Leiden-Delft-Erasmus combined. This provides opportunities to look beyond individual disciplines and acquire new understanding that would be slower to develop from a single discipline alone. This partly involves fellows completing an internship at a second Leiden-Delft-Erasmus institution. The sharing of knowledge and collaboration with government bodies and the business community are also encouraged.'
The LEaDing Fellows COFUND-programme* is a part of the Horizon 2020-Marie Skłodowska-Curie campaigns. The LEaDing Fellows will continue until the end of 2021 and the final call for applicants for 30 positions will follow from 1 September - 31 October 2018.  https://www.academictransfer.com/nl/49654/leading-fellows-postdoc-programme/
https://euraxess.ec.europa.eu/jobs/335810

For more information, see http://leadingfellows.eu or e-mail leadingfellows@tudelft.nl.

 *  This project has received funding from the European Union's Horizon 2020 research and innovation programme under the Marie Skłodowska-Curie grant agreement No 707404.