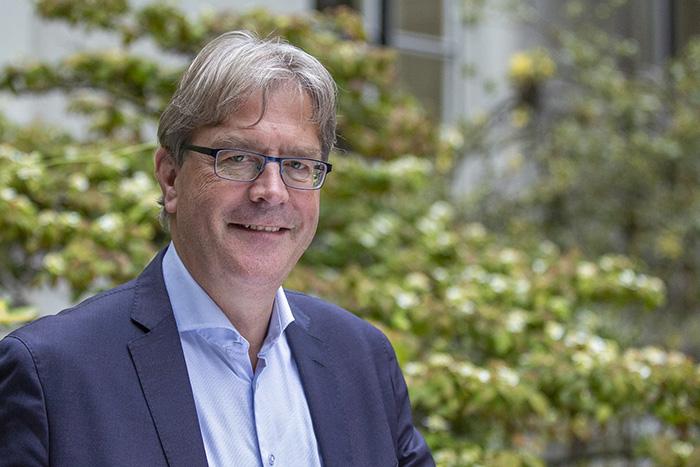 Five questions for Erasmus University Rotterdam's new president of the board, prof. dr. Ed Brinksma. About the future of science, it's role in society, collaboration of universities and the innovative ecosystem of the Zuid-Holland region.
You moved from Twente and Hamburg to Rotterdam: what attracted you to this new position and new working environment?
'I was not looking for a new working environment when I was approached for this position. It started a thought process for me. The central theme of my career, both in science and in administration, was bringing together fundamental science and serious applications. The wonderful thing is that this ambition is also an important part of the strategic vision of Erasmus University. In the end, the challenge proved so compelling that I could not say no.'
'We have to be a brand that has our knowledge have a perceptible and positive impact on society. I find the combination of academic excellence and the compelling urge to work with our partners in South Holland to achieve substantial societal impact to be a really inspiring objective that I'm looking forward to helping shape.'
What is EUR's mission where it concerns societal impact: in the city, the region but also outside of this? 
'Erasmus University set in motion the transition of being in the centre of society as a university and being and continuing to be in dialogue with society. I support this movement completely, because we are willing and able to provide added value. I consider it our task to learn to understand the contemporary, complex challenges facing society and then make a contribution to handling these challenges. And that should be recognisable in your education and research.'
'Such solutions should of course have a positive impact on society. I am of the opinion that we will mainly find those solutions by facilitating multi-disciplinary research. The corona crisis has demonstrated once more that the solutions to complex issues cannot be found within the reach of a single discipline.'
EUR is one of the 3 partners of Leiden-Delft-Erasmus Universities, which is an alliance that was formed in 2012. What does the cooperation with the TU and Leiden University mean for Erasmus? What are the strong points of this combination, what do you consider to be the 'unique selling points' of Leiden-Delft-Erasmus Universities?
'The future does not belong to monoliths, but much more to networks that demonstrate success by cooperating on dossiers and at the same time remain adaptive and flexible. The Leiden-Delft-Erasmus cooperation is the South Holland example of a knowledge-intensive regional network. The three universities each have their own profile and expertise, and cooperating closely with each other and bundling this will allow us to have a greater impact and thereby serve society better.'
Life Sciences are Medtech are on the rise: South Holland provides a 'good ecosystem' for doing so. How do you see this in relation to developments elsewhere in the world ?
'Two of the eight UMCs in the Netherlands and three universities are located within the Leiden, Delft and Rotterdam triangle. The cooperation within the medical delta is another example of a highly relevant network in which more than 250 scientists will be cooperating in the coming years within twelve different consortia on technological solutions for sustainable care. Similarly to the universities, the UMCs each have their own profile and expertise in this connection.  And the cooperation between our medical clusters and TU Delft is becoming increasingly important in this connection. One example of this is the convergence programme between EUR, TU Delft and Erasmus MC.'
'I am convinced that we can handle the competition abroad by bundling our knowledge in areas such as AI or Health and Technology, and in doing so provide answers to social issues that are better, more accessible and more affordable than the current approach.'
'The cooperation creates a very interesting and inspiring environment for our students with new study programmes that correspond to their needs and provide an excellent match with the labour market of today and tomorrow.'
We still see the places of establishment in South Holland as 4 separate cities: Rotterdam, The Hague, Leiden, Delft. Is a place of establishment still relevant as education becomes virtual in an accelerated manner and in view of the expected urbanisation? What makes it nevertheless interesting for 3 universities to be established in The Hague as well?
'It may appear that it will become less important in the future where education is provided or where research is performed, because we are becoming less bound by locations in a technical sense. At the same time, students and researchers like to receive and provide physical education and that is because studying and research are also social processes to an important degree, in which direct human interaction is important. This need to meet each other physically will continue to exist and should remain a feature of the universities.'
'Embedding a university in the city and region is very important to all parties, precisely if we also have the ambition of having an impact on society. This demands contact and cooperation at all levels. As international city of peace and justice, The Hague is also very important to EUR. ISS, which is one of the three EUR campuses, has been a perfect fit for almost 70 years.'