What do you do if you've recently graduated from a Dutch university and want to get to know the academic world in greater depth? You apply for a two-year Leiden-Delft-Erasmus traineeship, of course!
This traineeship programme emerged from the need felt by Leiden University, TU Delft and Erasmus University Rotterdam to recruit young academics with new ideas and initiatives and give them the space to develop themselves personally and professionally and gain work experience at different universities. By now, the fifth batch of trainees is already at work. To mark this anniversary celebration, we asked trainees and clients about their experiences.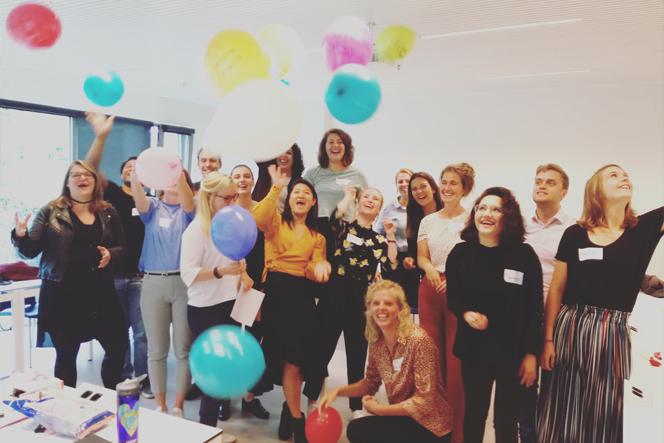 Five years of LDE trainees
During the two-year traineeship, a trainee completes two one-year assignments in the role of, for example, a project leader, policy officer or advisor. Trainees get the chance to work at almost all departments of Leiden University, TU Delft and Erasmus University Rotterdam, such as at Educational Affairs, Finance, HR, Strategic Development, IT and Communication. In addition to a full-time position, the traineeship also consists of training courses, peer-to-peer sessions and networking activities.
Supervisors talk about the LDE traineeship:

Tessa van Puijenbroek, Education & Innovation Programme Manager (TU Delft): 'I see the traineeship as a great opportunity to bring in fresh ideas and energy. In my experience, a trainee is eager to learn, enthusiastic and can make a team stronger. Who wouldn't want the chance to achieve great results within a year?'

Laura Zondervan, Information Management (Leiden University): 'It's always a pleasure to work with the LDE trainees. Although the trainees with whom I have worked are very different from one another, they also have a lot in common: they are all driven, innovative and bring extra dynamism to the team.'

Luuk Schokker, Executive Manager of the LDE Centre for BOLD Cities (Leiden-Delft-Erasmus): 'This year, our team at the Centre for BOLD Cities was reinforced by an LDE trainee. What I like about trainees is their flexibility and eagerness to learn. In a temporary position especially, it's important to be able to find your way quickly, and if you can do that, you can very quickly make a significant contribution to an organisation.'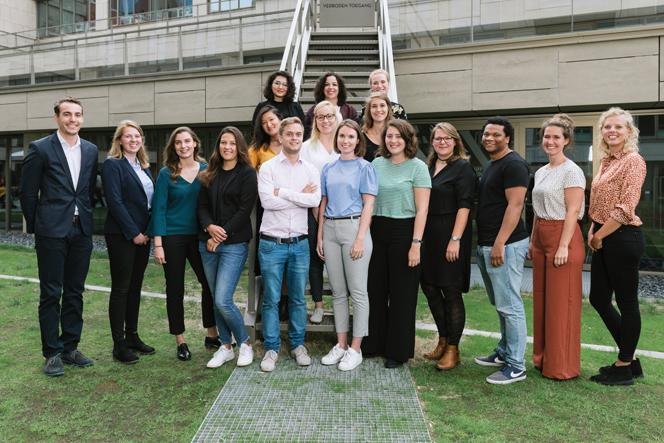 Trainees talk about the LDE traineeship:

Michelle Verheij, Communication and Project Officer Trainee: 'During different training sessions, we get the chance to understand ourselves better and gain confidence in our abilities. Then we can start using our newly acquired knowledge and skills at our workplace straight away. My highlights from this first year were organising an international five-day conference for the Leiden-Delft-Erasmus Centre for Frugal Innovation, setting up and conducting a workshop for my fellow trainees I designed myself and the two-day training modules in Noordwijk.' Read more

Rebecca Rehorst, HR Development and Mobility Trainee: 'The LDE traineeship is a good way for me to learn more about my talents and weaknesses. After graduating, I wanted to try out different jobs to see where I can make the best use of my talents. For example, this year, as part of a traineeship in an HR policy department, I'm going to work in an IT development department.' Read more

Jorieke van Harten, Teaching Initiatives Project Leader Trainee: 'The LDE traineeship is all about self-development. It offers the perfect opportunity to develop oneself fully within the dynamic world of the university. And just being part of a group of fellow trainees is a valuable experience, because we are a close-knit group and there is always someone who is happy to brainstorm with you.' Read more
Fifth anniversary: looking back, moving forward
The fifth year of the LDE traineeship is almost over. The current second-year trainees will start applying for jobs after the summer, either at one of the LDE universities or elsewhere. The first-year trainees are looking forward to their next assignment: they will move on to another university in September. In the meantime, the new batch of LDE trainees, selected last May, is ready to begin.
This summer, preparations will also be made for the LDE Business Trip 2020. During this annual trip, the trainees visit a foreign university, for an exchange of knowledge and experiences on a specific policy-related theme. Last year, the trainees went to Helsinki to discuss the concept of the 'Civic University'.
Stay in touch
Where do the trainees end up after their traineeship? A recently held networking event revealed that most of them continue to work at an LDE or other university, while a smaller number get jobs at consultancy firms or with the government. The Mentorship programme, where alumni provide coaching and guidance for current LDE trainees, has also emerged from the former LDE trainees network. Under the programme, a trainee can ask for advice on future careers or spend a day shadowing an alumnus. In this way, the LDE trainees help each other and exchange knowledge and experiences both during and after the traineeship.
Coordinators talk about the five years of LDE traineeship:

Gytha Rijnbeek, LDE Traineeship Coordinator (TU Delft): 'It's wonderful to see how young, enthusiastic trainees take a fresh look at relevant topics at our universities. They learn from each other and from working at the university. But we learn at least as much from them and, as universities, we also learn from each other. It is this cross-fertilisation that makes the LDE traineeship so valuable and ensures that it is equipped for the next five years.'

Mariëlle van den Oever, LDE Traineeship Coordinator (Erasmus University Rotterdam): 'The fact that the traineeship programme has existed for five years now, is certainly also due to the commitment of the trainees themselves. It's really inspiring to have these fresh viewpoints and energy around you. I can only appreciate the initiatives that the trainees organise with another in addition to the regular programme and their willingness to help us as coordinators!'

Alex Vernooij, LDE Traineeship Coordinator (Leiden University): 'The LDE trainee programme offers us at the collaborating universities lots of talent for the future. This is useful for our organisations and a positive outcome for us as LDE partners!'
Follow the Leiden-Delft-Erasmus trainees
Interested in knowing how trainees feel about their two years at Leiden-Delft-Erasmus? Read the messages on the blog www.ldetraineeship.nl and follow their activities on Instagram. More information about the traineeship can also be found in this short film (in Dutch):