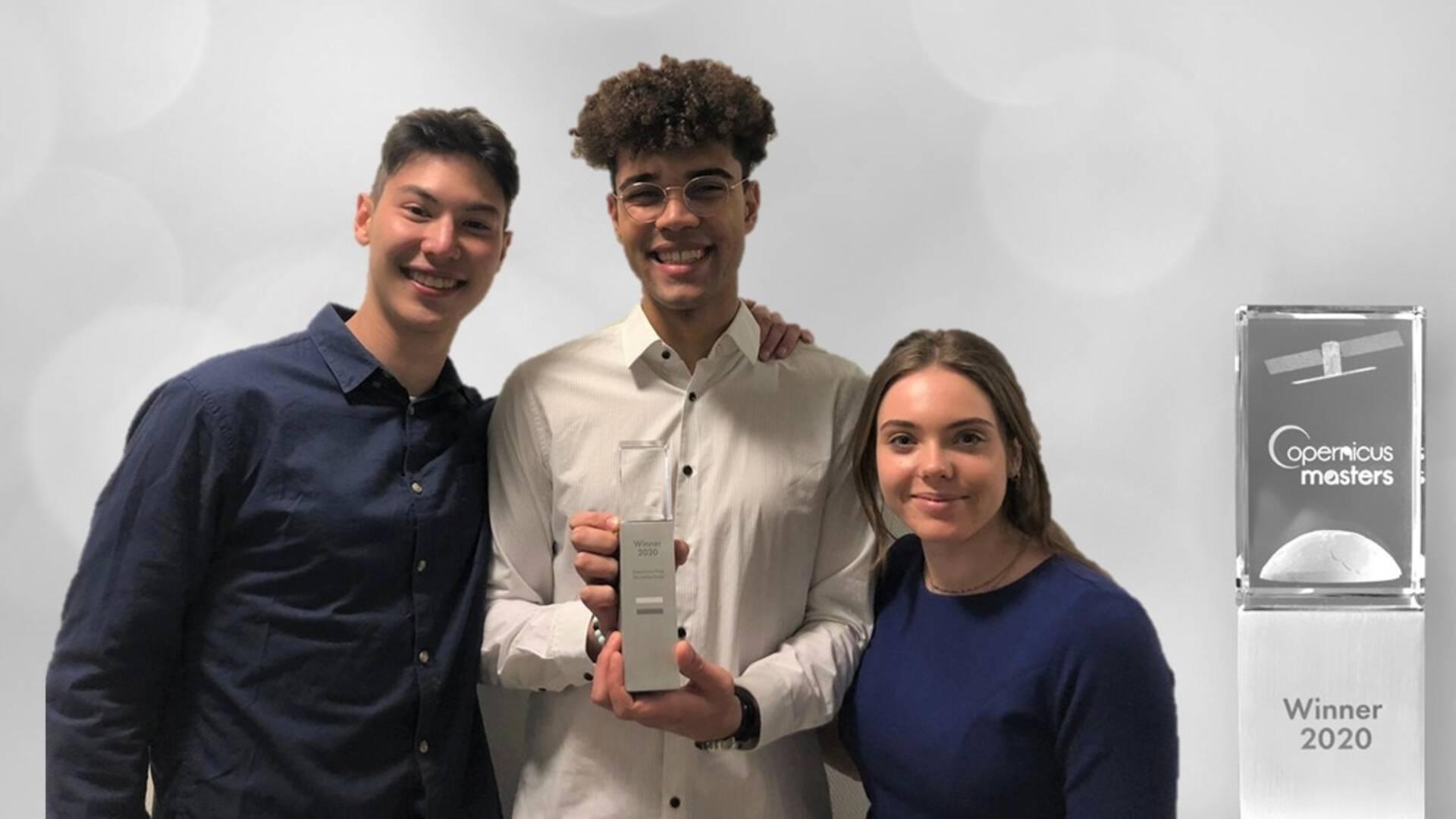 Text: SpaceOffice.nl
Reef Support has won the Copernicus Masters 2020 earth observation competition – the 10th edition. The startup won the Netherlands Prize a day earlier and is now awarded with a Space Award as an overall winner at the EU Space Week.
This Dutch startup is using Copernicus Sentinel-2's multi-spectral imagery data to monitor aquaculture, beaches and coral reefs. An AI-algorithm analyses several other datasets. The combined solution is a comprehensible platform that can warn authorities and/or SMEs when they need to take action.

The happy winners Yohan Runhaar (CTO) and Eilidh Radcliff (GIS manager) after the announcement
The team consists of Marcel Kempers (CEO), Yohan Runhaar (CTO), Marijn van der Laan (COO), Eilidh Radcliff (GIS manager) and Crystle Wee (marine biologist).
"Winning the Copernicus Masters means a lot to us. We feel really supported: from space data professionals and industry experts, both technical and business, some even in the marine monitoring field themselves, all believe strongly in our idea and the impact we can bring as a team", says CTO Yohan Runhaar.
Next steps for Reef Support
Following this prize, the team will use the funds to develop the idea into a full fletched Reef Support program.
"We plan to launch 3 pilot projects in 2021, what we call our ABC's; Aquaculture, Beach, Coral Reefs. Which mean we aim to rapidly test and validate our platform for related markets: seafood production, eco-tourism and conservation efforts. We have selected a few sites for this including the North Sea in the Netherlands, the Dutch Caribbean and Lombok, Indonesia. Parallel to this – in a way to engage a large community in the blue economy – we plan to make available free individual coastal maps at selective sites based on the data we have analysed. This will show the world the basic insights we can offer, for instance, sediment runoff, boat (illegal fishing) monitoring, pollution detection and reef health tracking over time."
Jury selection
Reef Support was selected by Copernicus Prize The Netherlands organizers SBIC Noordwijk and Netherlands Space Office, competition partners as well as several experts from their network.

Harm van de Wetering, director NSO: "The possibilities to develop solutions with satellites that the world needs right now, are almost endless. Reef Support's win shows us that there is a lot of talent in the Netherlands to do something with it. We're happy to give initiatives like this all the space they need."

Martijn Leinweber, SBIC Noordwijk: "We selected Reef Support because they have a potential idea in a growing market. They also have a very realistic mindset. Next to that, the team is complementary so we think they can execute this idea into a successful business as well."
Reef Support was no stranger to us, as the team participated in the Ignition Program (2020 fall edition), where they validated their business idea.
History of Dutch successes at the Space Awards
Ideas and businesses from The Netherlands are always doing great at the Copernicus & Galileo Masters space business competition. Last year, the Copernicus Masters was also won by a Dutch startup, GreenCityWatch. Throughout the history of the Space Awards, several businesses from The Netherlands have won challenges as well – some even twice. For an overview: Dutch Galileo Masters successes & Dutch Copernicus Masters successes.