How can we promote and facilitate happiness in cities? How can we increase city dwellers' sense of well-being? In other words: how can we work together with the public, government authorities and the business community to build happier cities?
To answer this question, students from TU Delft, Erasmus University Rotterdam and Leiden University have set to work in the Inclusive City Hub of the Leiden-Delft-Erasmus Centre for Sustainability. The hub's focus is on contemporary urban problems, such as housing, mobility, waste, circularity and renewable energy. It aims to contribute to the joint Roadmap of the Rotterdam/The Hague Metropolitan Area (RDHM).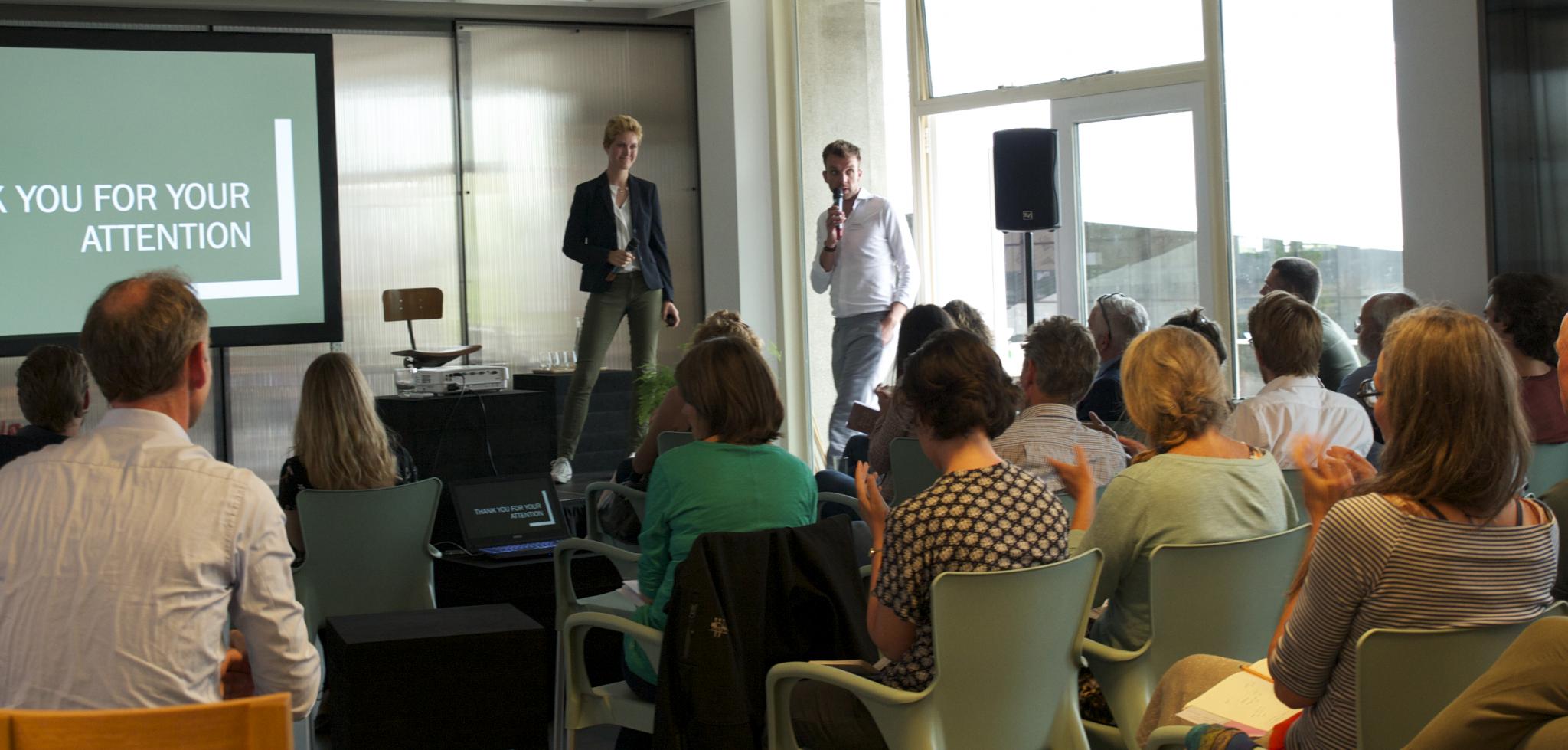 Intrinsic motivation
In this hub, the Centre for Sustainability is exploring citizens' intrinsic motivation for supporting a circular economy. In order to make the transition to a circular economy, we need to think about citizens' participation in the transition process. In other words: how can we create an inclusive society in which people are an active part of the solution? The hub, which is an alliance between the universities of Delft, Leiden and Rotterdam, brings together students, researchers and policy-makers to think about these issues.
Gertjan de Werk, Manager of the Leiden-Delft-Erasmus Centre for Sustainability explains: 'This interdisciplinary collaboration is extremely valuable for students because they are able to make use of each other's knowledge. Plus, it gives them an opportunity to write a Master's thesis with real impact!'
The design model for happiness
All of the student projects took as their basis the design model for happiness developed by Pieter de Smet, Professor of Design for Experience in TU Delft's Faculty of Industrial Design Engineering. In the model, the ingredients for well-being are: the sense of being a decent person; the feeling that we matter and belong somewhere; pleasure and satisfaction.
But in order to design for happiness, by which we mean general satisfaction rather than an ecstatic sense of joy, we need to know what motivates people. What is the intrinsic motivation of city dwellers? Lucas Meijs, Professor of Volunteering, Civil Society and Businesses at the Rotterdam School of Management of Erasmus University Rotterdam says that it is crucial for people to organise and do what they themselves find fun, important and meaningful so that they do not lose their autonomy. The students went into the city to talk to the public about this.
Esther Keymolen, Assistant Professor of eLaw in Leiden University's Faculty of Law, adds that trust is also an essential precondition for happiness in the city. Trust is a human strategy for dealing with complexity and uncertainty. We often look to control mechanisms in order to reduce complexity and uncertainty. However, in doing so, we miss out on the opportunities for creativity and innovation.
The Master's presentations (2017)
Stella Groenewoud, a Master's student at TU Delft, is working on a study entitled 'Van spullen tot steden' (From things to cities). She is investigating the natural order of things and how cities can take account of this in designing spaces. In her view, with the right combination of things, cities can create a space in which people feel free and therefore actively use the space.
Emmy van Gennip, a Master's student at Erasmus University Rotterdam, presented her research entitled 'Power to empowerment': a Master's thesis on local energy initiatives. How can local policy promote energy initiatives that contribute to Rotterdam's energy transition? Her conclusion is that bottom-up support is necessary, for example in the form of financial support, coaching or temporary energy contracts.
Kathrin Wendt, a Master's student at Erasmus University Rotterdam, wondered why millennials do not recycle more. This despite the fact that, as a group, they are very aware of climate change and environmental issues. According to De Wendt's research, good intentions are only one of four factors that have an influence on millennials' recycling habits. Other factors are: facilities, habits in the past and the sense of satisfaction from recycling (the feel-good factor).
You can find the Master's students' presentations at the bottom of this article.
---
The Inclusive City Hub
The Inclusive City Hub consists of three studios. Each studio adopts a regional perspective within the Rotterdam/The Hague Metropolitan Area:
Central Rotterdam - How can we make the communal areas of Rotterdam inclusive?
Midden-Delfland - How can we connect the rural area with the urban area in a circular way?
The Hague CID - How can be we develop the Central Innovation District (CID) in a completely circular way?
In the Leiden-Delft-Erasmus Centre for Sustainability, researchers from Leiden University, TU Delft and Erasmus University Rotterdam are working together on the theoretical rationale behind a circular economy. Read more about the Inclusive City Hub on the Centre for Sustainability website.