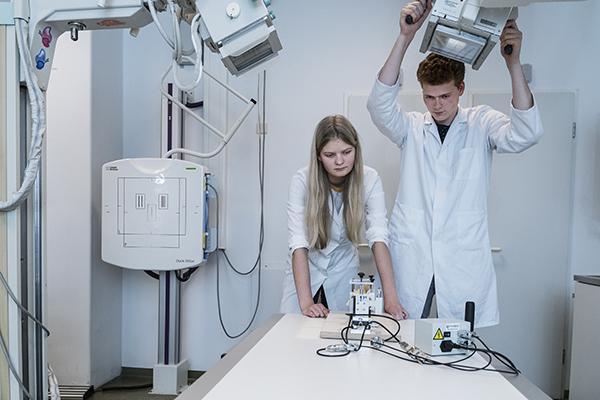 In spring 2020, the country was facing the potential lack of hospital ventilators for the huge numbers of Covid-19 patients. In response, Clinical Technology students designed an emergency device in the space of just three weeks. 'These students become 80% doctor and 80% engineer.' Two standard-bearers of this degree programme, which is offered jointly by TU Delft, Erasmus MC and LUMC, explain how this specialisation is going to change healthcare.
One is an engineer, the other is a doctor. Director of Studies Jaap Harlaar and co-founder Frank Willem Jansen are proud advocates of the Bachelor's degree programme in Clinical Technology and the Master's degree programme in Technical Medicine. The programmes are offered by TU Delft, Erasmus MC and LUMC; the first Master's students graduated last September.
A problem that doesn't exist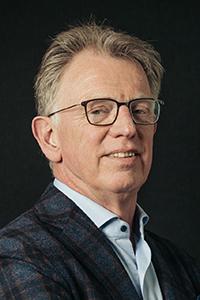 Although the Clinical Technology programme is relatively new, biomedical electrical engineer Harlaar had actually spent 30 years working as a clinical technologist before he was appointed Director of Studies in Delft three years ago. 'At the Rehabilitation department of what was then the VUmc, I developed instruments to treat patients with walking problems. My office was literally next to the consulting room. I really wanted to be near and actually have contact with the physicians, because before you know it you've come up with a solution to a problem that doesn't exist. Unfortunately, that happens a lot.'
This year, Harlaar was appointed professor of Clinical Biomechanics at Erasmus MC and LUMC, in addition to his position in Delft, making him a "Medical Delta Professor" (Medical Delta professors are appointed to at least two of the five academic institutions in the province of Zuid-Holland represented in this partnership, in which companies also participate, ed.). Harlaar: 'Medical Delta is actually Clinical Technology's older sister, but then more focussed on research.'
Jansen, originally a gynaecologist, is chair of Medical Delta. 'I'm involved in the surgical side of my field, specifically in Minimally Invasive Surgery (MIC), or keyhole surgery. This means that you perform operations through a very small hole in the body.' He is a professor at both LUMC and TU Delft and researches the patient-safe implementation of MIC methods and technologies.
Communicative engineers and creative doctors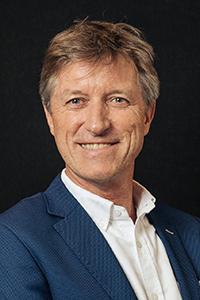 Jansen was one of the founders of the Clinical Technology degree programme. 'In the beginning, the idea was to just set up a Bachelor's degree programme, which would prepare students for a Master's degree programme in engineering or medicine. It wasn't our plan to train engineers to be at a patient's bedside. But this idea gradually started to change. Jansen: 'Medicine is fairly conventional. And rightly so, because as a doctor you have to be prudent. But there are more and more technological developments and new opportunities. Take 3D printing and artificial intelligence, for example. To actually use those technologies in clinics, you need communicative engineers and creative doctors.'
Precisely the people who are being trained on the Clinical Technology degree programme, according to the two men. Harlaar, half joking: 'Our students become 80% doctor and 80% engineer. So they're exceptionally intelligent individuals.' Every year, 600 aspiring students apply for the 100 places available on the programme. On the medical side, they don't cover psychiatry and pharmacology, but they do study anatomy and communication. 'They really have to understand patient vulnerability,' emphasises Jansen.
Prostheses and ventilators
Consider the exoskeletons, prostheses and other aids that Harlaar has been working on throughout his career. 'We want to make them smarter and smarter, so that they're optimally attuned to the residual capacity of the patient. You have to have an excellent understanding of what is going on clinically, know a lot about neurology, muscle physiology and how forces work. The products we make aren't mass-produced, it's all customisation. Just as each operation a surgeon performs is different.'
This spring, under Harlaar's leadership, Clinical Technology students developed a solution to the impending shortage of ventilators due to the expected surge in Covid-19 patients in the space of just three weeks. They even made it on to the Dutch TV news programme NOS Journaal. 'Many initiatives were launched to prevent a shortage, but these devices are quite complex. They do more than simply administering oxygen. The students used their clinical and technical knowledge to scale back the device to the absolute essentials. Fortunately, the much feared 'wave' never really transpired, but eighty ventilators were still produced, which the Ministry of Health, Welfare and Sport is holding on to.'
Scepticism, followed by a warm welcome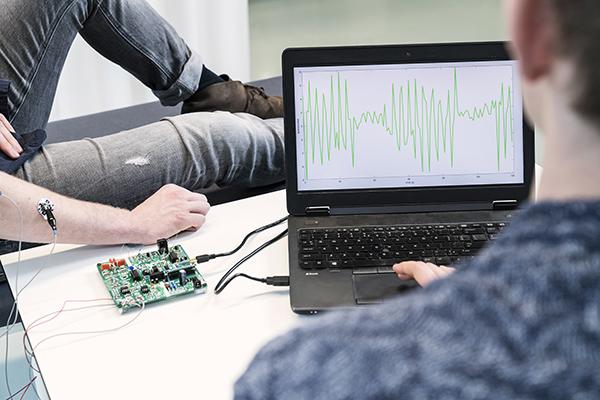 Some students do their internship with Jansen at the LUMC. 'When they come to the ICU, they walk around in amazement. It's full of technology. You can see that they're good process thinkers. Traditional doctors tend to look for solutions straight away: surgery or medication. Engineers start by analysing the problem.' How do doctors actually feel about this new group of professionals moving onto their patch? Jansen: 'When I first brought students to the hospital, my colleagues were quite sceptical. 'What are they doing here?' But now my colleagues actually approach the students and ask them for help. This programme reinforces the principles that Medical Delta stands for, namely providing technological solutions for sustainable care.'
The first cohort of graduates from the Master's programme are now entering the labour market. There are plenty of opportunities, but no made-to-measure vacancies. Jansen: 'We've come up with a solution for that. We have created fellowships at the LUMC, whereby a clinical technician is appointed for two years on a cross-departmental project. They can then specialise, for example, in intensive monitoring for neonatology and cardiology, or in 3D printing for both orthopaedics and oral surgery. Our Executive Board pays for these fellowships, and I'm sure that after those two years the clinical technologist will have made themselves so indispensable that they'll be able to stay.'
Text: Rianne Lindhout
More about Clinical Technology at the LDE Talks on 8 December

LDE Talks will host Jaap Harlaar and Frank Willem Jansen on Tuesday 8 December. Fleur Boel, a recent graduate of Technical Medicine will also provide insights into clinical technology. The LDE Talks will catch you up on the latest news and developments at Leiden-Delft-Erasmus Universities. The session will take place online, between 15:30-16:30. Everyone is welcome to join. Sign up here:

Programme and registration
---
Graduate Melissa van Gaalen
'I did my graduation project at the Department of Plastic, Reconstructive and Hand Surgery at Erasmus MC. Patients with thickened facial scars due to burns or facial reconstruction after skin cancer treatment could benefit from a pressure mask with an inner layer made from silicone. Wearing such a mask day and night may eliminate the need for surgical scar correction. The production of these masks is very labour intensive and also unpleasant for the patient, because a plaster cast of their face is required. I have developed a new method; the mould is made using a 3D scanner and a 3D printer. This is much more comfortable for the patient.'