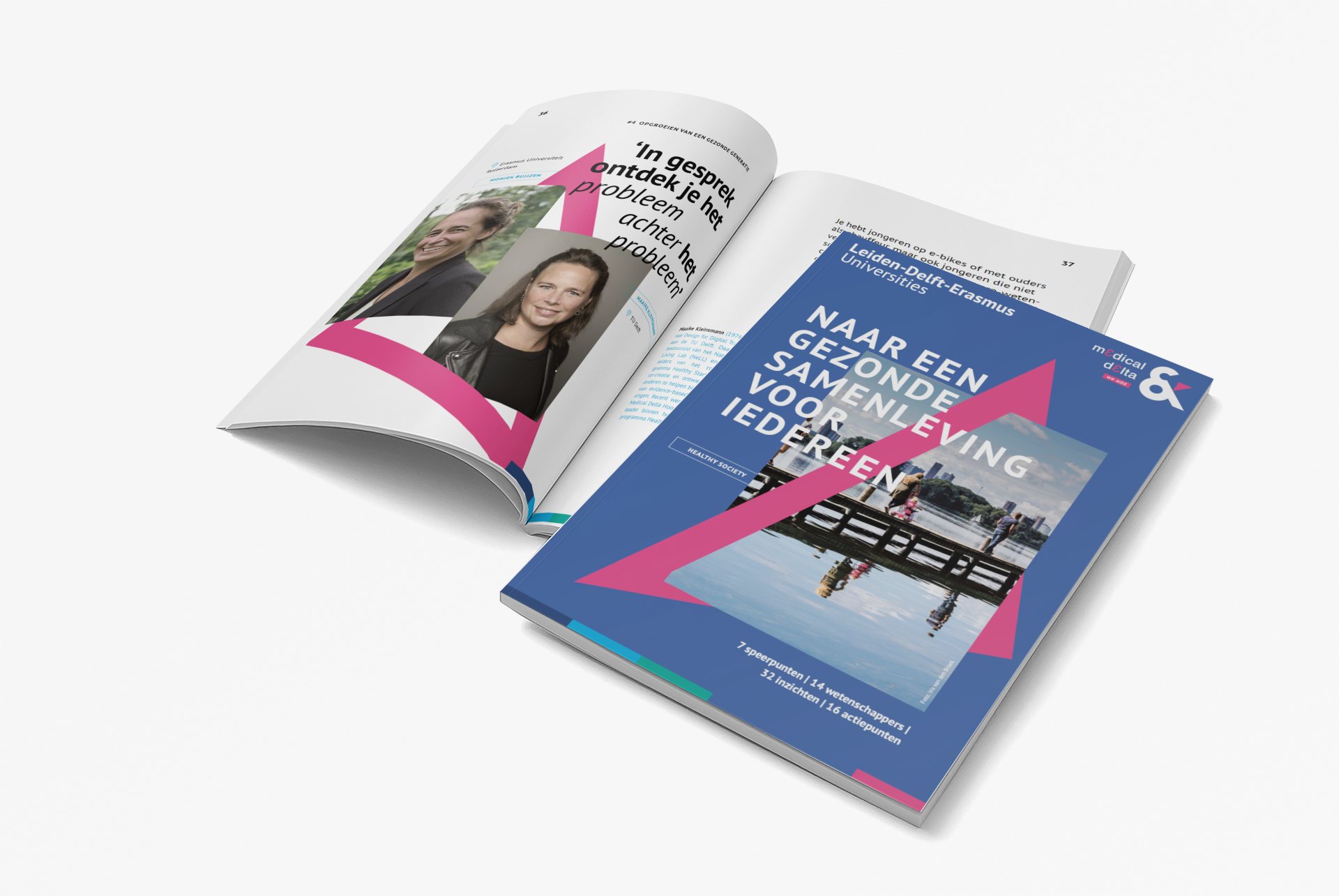 Making society healthier and closing the health gap: that is never going to happen simply by encouraging people to lead healthier lives. An integrated approach is needed that links the medical, social, technological, and physical domains. The starting point: work with the target groups involved to find out what's holding them back and to come up with solutions that fit their lives and their surrounding environments.
That is the common denominator from interviews with 14 scientists working in South Holland in the readily accessible white paper Naar een gezonde samenleving voor iedereen (Towards a Healthy Society for All), which was published on 15 November. The paper has been put out by Healthy Society, a collaborative initiative of Leiden-Delft-Erasmus Universities and Medical Delta that aims to reach policymakers, managers, and politicians.
A variety of subject areas
In the paper, the 14 researchers sit down together in pairs to discuss different aspects of the theme. They come up with surprising takes on health and how it can be influenced by policy. For example, political scientist Jet Bussemaker explains why it pays to use healthcare funds to tackle debt. She and others emphasise that you sometimes have to start at a point far removed from someone's lifestyle: 'When you really start talking about what people are concerned about, you hear about existential insecurity, mould in houses, unsafe neighbourhoods, and worries about the kids. Stressing about these kinds of things gets in the way of healthier living.'
Architect Machiel van Dorst advocates, among other things, wider walkways and corridors in blocks of flats to promote social interaction, because, as he puts it, 'Human beings are the most important part of your environment.' Gynaecologist Eric Steegers wants to reduce infant mortality in poor neighbourhoods, and asks pregnant women about their money worries. Health psychologist Semiha Denktaş tells of successful conversations doctors and students had in markets in Rotterdam neighbourhoods where coronavirus vaccination rates were low. 'Tailored approaches and visiting people in their own surroundings works better than some one-size-fits-all approach.'
Andrea Evers, a Professor of Healthy Society who, together with scientific coordinator Sandra van Dijk, selected the scientists who were interviewed, adds: 'We're really pleased to have so much expertise and talent in these fields within Leiden-Delft-Erasmus Universities and Medical Delta, and delighted that many of us are already working together across the disciplines. The white paper thus covers a plethora of social aspects of health, from debt relief and housing conditions to care for vulnerable groups and insights on how to influence some behaviours and prevent others, to name just a few examples.'
Socially relevant, and collaborating across domains
Frank Willem Jansen, president of Medical Delta, puts it this way: 'The themes in this white paper show how broad the topic is, and demonstrate the need for cooperation across domains, interests, and scientific disciplines. Interdisciplinary research and education cannot do this without the strong involvement of businesses, healthcare organisations, governments, and other social partners—not to mention, of course, the individuals concerned.'
Wim van den Doel, Dean of Leiden-Delft-Erasmus Universities, adds: 'Universities want to be relevant to society, and they are, by virtue of the teaching and research they do. This white paper seeks to make the findings of research on a healthy society accessible to society. It offers 32 insightful findings and 16 action points on the basis of which citizens and policymakers can get to work, together with scientists.'
---
'Towards a healthy society for all − 7 focus points | 14 scientists | 32 insights | 16 action points' is now available as a PDF (download via the attachment below) and can be requested in hard copy from healthysociety@FSW.leidenuniv.nl.