De 14e Europalezing heeft als thema 'Cultural Heritage in Times of Conflict. Irina Bokova, algemeen directeur van UNESCO,  is de keynote speaker. Sada Mire, archeologisch onderzoeker van de Universiteit Leiden en het Leiden-Delft-Erasmus Centre for Global Heritage and Development, is gevraagd als co-referent te reageren op de toespraak van de UNESCO-directeur.
Ook Fernández de Gurmendi, president van het Internationaal Strafhof zal reageren op Irina Bokova's toespraak. .
heritage.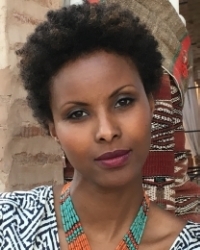 Sada Mire is gespecialiseerd in de archeologie, ethnografie en geschiedenis van Noord-Oost-Afrika, met name Somalie, Ethiopie, Eritrea, Djibouti en Kenia.  Voor het Leiden-Delft-Erasmus Centre for Global Heritage en de Universiteit Leiden ontwikkelt ze samen met andere onderzoekers een MOOC (Massive Online Open Course) over erfgoed en conflict. Die wordt eind 2016 gelanceerd.  
Bekijk de Tedx Talk van Sada Mire

De Europalezing is een regelmatige terugkerende lezing over de betekenis van Europa vanuit sociaal-economisch, politiek of cultureel perspectief en wordt gehouden in Den Haag.
De Europalezing is in 1992 ontstaan uit een initiatief van de Hogeschool van Utrecht en het Utrechts Nieuwsblad en werd in 2014 voor de vierde keer in Den Haag georganiseerd. Vanaf 2013 wordt met (financiële) ondersteuning van de Gemeente Den Haag en het Montesquieu Instituut de Europalezing mogelijk gemaakt. De stichting Europalezing draagt zorg voor de uitvoering.