By bringing together members from all segments of its community for a day of research-oriented shop talk, the Centre for BOLD Cities celebrated its first anniversary on Monday, 29 May.
During the anniversary meet-up, researchers from the LDE universities showcased their ongoing BOLD Cities research in the presence of their peers. In addition, newly appointed professor Marjolijn Das introduced herself to the BOLD Cities community with a keynote on urban statistics.
The BOLD Cities anniversary consisted of various talks and presentations that summed up the full scope of the Centre's areas of expertise. Postdoctoral researcher Arie-Willem de Leeuw organised and hosted the morning session on sports, events, health and the city, while the afternoon programme revolved around different big, open and linked data projects and citizen participation.
Sports, events, health and the city
Data scientist Joost Kok (Leiden University) kicked off by presenting his projects on responsible monitoring and made his multidisciplinary audience privy to the methods and challenges of responsible data science: science that is guided by the principles of fairness, accuracy, confidentiality and transparency.
Mark Ruijsendaal (The Hague Security Delta) spoke about the use of big data for event security, followed by psychologist Carolien Rieffe (Leiden University), who presented her prize-winning research on using sensors in order to study children's play and group behaviour in school playgrounds.
'I got the idea of using sensors from Joost Kok when we stood next to each other in line for a buffet', Rieffe revealed. With her research, she also hopes to contribute to the development of 'playful cities' in which each child can play outside and develop its social skills.
Host Arie-Willem de Leeuw concluded the morning session with a presentation on data science and the Leiden marathon.
Big, open and linked data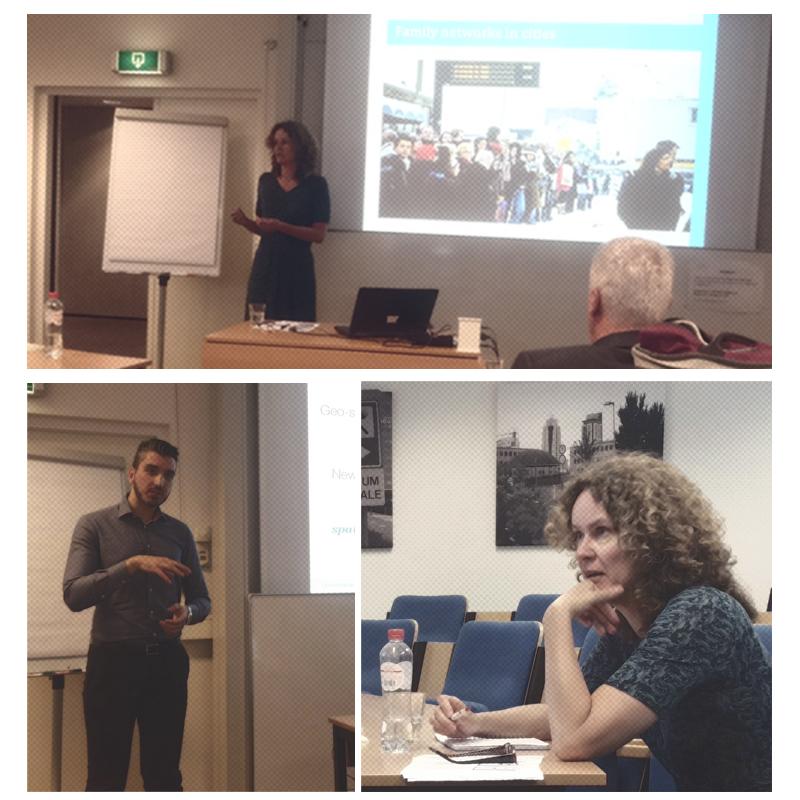 The introduction of Marjolijn Das (CBS/Erasmus University), the Centre's newly appointed professor of Urban Statistics, marked the beginning of the afternoon session. Das delivered a keynote on her current research project, which focuses on lifecycles of women migrating from rural to urban areas.
The Dutch government is one of the most digitalised governments in the world, Das told her audience. Organising and analysing all these official data is the responsibility of CBS. And city municipalities need the data for their policies. 'Therefore, collaboration with both universities and municipalities in such initiatives as Urban Data Centres is of crucial importance', Das said.
Following the keynote, four BOLD Cities affiliates showcased the variety of projects that has already been established in the Centre's first year. Achilleas Psyllidis (Delft University of Technology) presented on urban big data tool SocialGlass, which is developed to predict the dynamics of cities based on real-time analytics of geo-social data. Anneke Zuijderwijk (Delft University of Technology) talked about various open data projects, with the question 'What makes researchers use open data for their research' as her main research topic.
The linked data aspect was covered by Merel Schuring (Erasmus MC), who introduced the collaborative ZonMW-funded 'Re-integration in BOLD cities' project, in which municipal data are linked with CBS data. Lastly, BOLD Cities board member Ellen van Bueren (Delft University of Technology) delivered a presentation on citizen participation in urban living labs.
In the evening, BOLD Cities' first anniversary was aptly concluded with the annual Rotterdam Lecture, delivered by the Centre's academic director, Liesbet van Zoonen.